The Nambucca Heads Island Golf Club set on the beautiful Nambucca River
Nambucca Heads Island Golf Club has to be one of the most picturesque public golf courses in Australia. Its unique location on Stuart Island surrounded by the Nambucca River at Nambucca Heads makes it a magnificent setting for a game of golf. Where else can you play golf while watching dolphins swim by in the pristine river while an abundance of birdlife including pelicans, osprey and sea eagles fly overhead.
But this is not just a great location. The par 69, 18 hole layout designed by Ross Watson is both a challenge for the experienced player but enjoyable for an average golfer. It is a flat easy walk on fairways lined with she oak and paper bark trees. Our Bent Grass greens are often described as the best north of Newcastle and are the result of decades of dedicated work.
Located ten minutes off the Pacific Motorway, 30 minutes south of Coffs Harbour may we suggest you call in and take a look. You may enjoy a cold drink or lunch on the deck overlooking the river.
Australia Day Ambrose
On Australia Day this Sunday Nambucca Golf Club is running a 2 Person Ambrose over 9 holes. You don't have to be a golfer as it is open to all. Players who don't have a handicap will be given one for the event. Eventry of $20 entitles you to a free drink and nibbles.  Prizes will be presented at the end of play.
The band Raven will start playing at 1.30 and there will be a free kids jumping castle. The restaurant will be open from 12 noon so you could join us for lunch.
For bookings ring Paul at the pro shop on 65688172.
MNCDGA Championships
The MNCDGA Championships will be held at Nambucca Heads Island Golf Club on Sunday 16th February. There will be Gross and Nett winners in 5 Divisions as well as an overall Champion, Junior Champion and a 4 person teams event. Entries are available on line at namgolf.com or by ringing Nambucca pro shop on 65688172. When entering on line the event is a stroke  event for males on 16/02/20. Click on the link below for the conditions of play and more detailed information on how to enter.
Easter Bowl 2020
Our Easter Bowl winners for 2020 will be held over Easter Saturday and Sunday the 11th &b 12th April.
The format of this event is a Medley  Single Stableford with an 18 hole event each day and a 36 hole event over the two days playing for the Easter Bowl, the major prize being a hand carved wooden bowl for the two day event.
Saturday's event was sponsored by the three G's Geoff Harris, Geoff McCann, and Geoff Rees. Sunday's competition was sponsored by Deidre Byrne.  The major 36 hole event was sponsored by Ronda Rowe. Our thanks go to these sponsors and Kurt Taylor for crafting the prizes.
Entries can soon be made online at namgolf.com.au or by ringing the pro shop on 02 65688172.
Reciprocal Clubs
Nambucca Golf Club is currently reviewing its reciprocal arrangements with other golf clubs. Members of other golf clubs with which we  have entered into reciprocal agreements are entitled to play at Nambucca Heads for the same costs as Silver Members. To play either in competition or socially costs $20 for 18 holes or $14 for 9 holes for players with reciprocal rights. The list of clubs with exsisting rights is constantly changing and can be viewed via the link below.
Clubs with Reciprocal rights at Nambucca Heads Island Golf Club.
2019 Golf Calendar
The 2019 Golf Calendar is now available under the Golf tab.
In the Clubhouse
HAPPY HOUR - Monday to Friday 4pm to 5pm - $4.50 Schooner, $4.50 Wine
BINGO - Thursday's from 11am - $6.00 lunch deals & promotion.
RAFFLE NIGHTS - Wednesday & Friday nights from 6.30 pm Meat, Seafood and Vouchers -Trivia, Members Lucky Door Prizes
Island Sunday and River Sunday
On the first and third Sundays of each month we conduct mixed events open to members and visitors alike. These are very social events with a shotgun start at 11am so that all players finish at the same time to socialise and enjoyment the clubhouse amenities including free snack food.     The first Sunday is always a mixed 4BBB Stableford while the third Sunday is a mixed 4BBB that is varied each month.
Entries are via the competition booking tab on the home page  or by ringing the proshop on 65688172.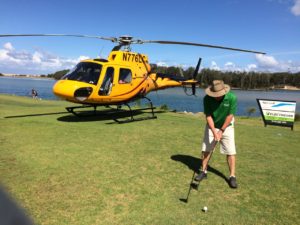 Some Players will go to great  lengths
to play a round on the Island