The Nambucca Heads Island Golf Club set on the beautiful Nambucca River
Nambucca Heads Island Golf Club has to be one of the most picturesque public golf courses in Australia. Its unique location on Stuart Island surrounded by the Nambucca River at Nambucca Heads makes it a magnificent setting for a game of golf. Where else can you play golf while watching dolphins swim by in the pristine river while an abundance of bird life including pelicans, osprey and sea eagles fly overhead.
But this is not just a great location. The par 69, 18 hole layout designed by Ross Watson is both a challenge for the experienced player but enjoyable for an average golfer. It is a flat easy walk on fairways lined with she oak and paper bark trees. Our Bent Grass greens are often described as the best north of Newcastle and are the result of decades of dedicated work.
Located ten minutes off the Pacific Motorway, 30 minutes south of Coffs Harbour may we suggest you call in and take a look. You may enjoy a cold drink or lunch on the deck overlooking the river.
If you are interested in joining our great club click on the links below for more information or check out the membership details under the Golf / Membership tab.
Next Round of the Kempsey  Haval Island Challenge Series is
Friday 13th September
In the Clubhouse our services and activities are expanding
Clubhouse open every day 

Raffles every Wednesday and Friday nights from 6pm

Happy Hour Monday to Friday 4pm to 5pm

Restaurant has re-opened for lunches and dinners

Pro Shop open everyday till 4pm
Kerry McCoy Cup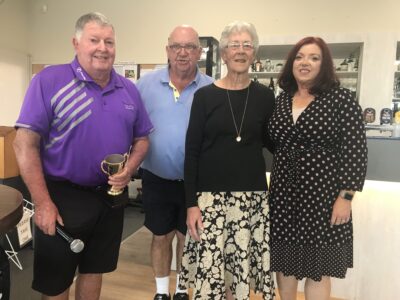 The inaugural "Kerry McCoy Cup" was played on Saturday 12th September with a great field of 143 players including 31 visiting golfers. The Medley Single Stableford event was sponsored by "A Pizza This A Pizza That" with Steve Ward also supplying free pizza to the members and Club Professional Paul Habgood who donated a golf bag. The Trophy is presented to the Nambucca Heads Island Golf Club member with the best stableford score on the day and will be presented each year on the second Saturday in September to remember all members and family of members who have passed on during the previous 12 months.
In an emotional presentation attended by Kerry's wife Lyn and daughter Maureen, President Geoff Harris paid tribute to Kerry's time as past Captain and President, "who gave his heart and soul to the Club, and without whose determination, the Club would almost certainly not be trading today – such was his influence in re-shaping our future".
Winner of the Cup was many times Club Champion and Life Member Ian Vidler  with the Trophy presented by Lyn and Maureen.
Furthjer results can be found in the Daily Competition Results and the Weekly Golf Report.
 Winner of the Kerry McCoy Cup, Ian Vidler, Geoff Harris (Club President)
 with Lyn McCoy and Kerry's daughter Maureen                               
Island Classic 2020
The 2020 Island Classic has been completed with Brad Graham from Frederickton and Donna Easey from Nambucca Heads winning Division One. Other major prize winners were Urpo Ylinen (NH) and Kay McGoldrick (NH) taking out Division Two and Les Mohr (NH) winning Division Three in the 36 hole Island Classic. The scratch winner for the men was Harry McMillian with 140 and the best women's score was by Henny Oldenhove with 177. All results for the three events played over the two days are available via the links below. Our thanks go to our sponsors who make these type of events so successful and popular, Midcoast Trucks for the 36 hole event, Deidre Byrne for Saturday and BCIB Insurance Brokers for Sunday.  Despite the windy conditions over 130 players enjoyed the two days on our unique island location with the 60 visitors saying what a wonderful course we have and that they will be back in the future.
Andrew Bagust, Captain
MEMBERS UPDATE- SEPTEMBER 2020
The following matters are circulated for Members information.
RESTAURANT
As Johnathon reported last week Matthew and Ashleigh have determined to terminate their lease of our club restaurant. They have been an integral part of our operations for many years and we thank them for their wonderful service to our club and we wish them well in all future endeavours. Following considerable discussion your Board have decided to incorporate the restaurant business into the club operations and this action necessitates the appointment of a head chef. I am pleased to confirm that this process is well underway and an appointment to this role should be confirmed within the next two weeks.
TRADING
It is pleasing to report that the months of July and August have produced very good trading results and this good start to the financial year suggests that we will have another successful financial result in 2020/21. Our strong financial results have enabled us to move ahead with additional repayments on longer term debt and our balance sheet is looking stronger as a result. Final results from 2019/20 are still not available as our Auditors are still completing final reporting.
CAPITAL WORKS
How good does our revamped Bar look? Great work by Johnathon in achieving this result and as I write this update some minor finishing touches are still required but what an improvement. We are thinking that this décor could be carried into the refurbished lady's facilities. How good would that look? The car park project is still in obeyance but will happen soon. As you would all notice work on course upgrades is continuing. We are all happy that the overhanging tree on the 17th. has been trimmed. Great work Greg.
STEPTOE AND SON
Our willing band of workers who attend to the recycling of bottles and cans on the course have hit new financial heights. Their efforts in the past three months have contributed in excess of $3000.00 to the club coffers. Thanks to Dave Ogilvy and helpers for this wonderful contribution.
SUMMARY
It is pleasing for your Board to be able to report good news. As I have said many times before this is only possible because of member support and we thank you all for your dedication to our club. You would also notice that the visitor numbers are continuing to increase and we have a large number of forward bookings stretching out many months ahead. We should be very proud that so many people love our venue and return continually.
Thank you all again for your constructive comments and your positive feedback. It does make our job worthwhile.
Good golfing.
Geoff Harris,
President.
Club Championships 2020
The 2020 NHIGC Championships for Men, Women and the Foursomes have now been completed. Congratulations to all the winners and runners up. The course was in great condition throughout the various events with the Greens being a feature. Our thanks go to Course Superintendant Greg Jagger and his team for their efforts. Thanks also to the various committee members who organised and conducted these events.
We would also like to thank the sponsors of these events : HLV Partners for the Men's Championships, Midcoast Trucks for the Women's Championships and Terminator Ant Control for the Foursomes.
The winners are listed below.
| | | | |
| --- | --- | --- | --- |
| Men's Champions | | | |
| A Grade  | Stephen Carr | A Grade Nett | Greg Smith |
| B Grade  | Phillip Mander | B Grade Nett | Joe Street |
| C Grade  | Dennis Ashton | C Grade Nett | Urpo Ylinen |
| | | | |
| Women's Champions | | | |
| A Grade  | Darcy Habgood | A Grade Nett | Denise Paluch |
| B Grade  | Narelle Delaney | B Grade Nett | Dorothy Bunyan |
| C Grade  | Kerry Shearer | C Grade 2nd | Morann Patterson |
|   | |   | |
| Foursomes Champions | |   | |
| Mens | Bruce Berry &  | Greg McCoy | |
| Womens | Henny Oldenhove & | Denise Paluch | |
| Mixed | Glenys Thompson & | Drew Glasson | |
Andrew Bagust
Captain  
Women's Championships Results    Men's A Grade Results              Men's B Grade Results            Men's C Grade Results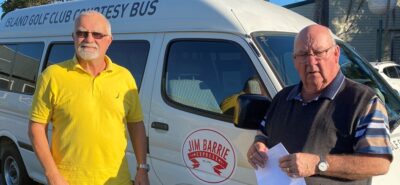 The Jim Barrie Express 
Jim Barrie loved playing golf on our course and was a valued member of the club. Always happy and smiling his absence has been felt by many members who remember him fondly. Jim bequeathed a sum of money to the club which has been used to purchase the new club bus now named the Jim Barrie Express. His generosity will be remembered whenever we see or use his bus.
Jim Barrie's best mate Glen is pictured presenting funds for the "Jim Barrie Express" to President Geoff Harris
Andrew Bagust
Captain's Update -

Golf Fixture Changes
Now that we are able to play in groups of 4 and the clubhouse has reopened we are returning to our regular fixtures calendar. The 4BBB Knockout has re-started and the Men's Singles Knockout qualifying has been held.  The Men's Championships begin on Saturday 18th July and the Women's on 22nd July. Other events scheduled include the Foursomes Championships, the Island Classic in late August, the MNCDGA Championships on 27th September and the Nambucca Open Day on 11th October . There is a Major Events calendar on display in the clubhouse and it is available using the link below as is the fixtures calendar for the remainder of the year.
Various events are being played on Tuesday, Thursday and Saturday. A Women's competition is available on Wednesday. Bookings at namgolf.com or by ringing the pro shop on 65688172.  The time sheet will be set up  with a 10 minute  interval between groups. Please don't arrive  earlier than 20 minutes before your tee time and don't linger too long after play is finished. Only 1 person per cart unless family members. Heavy fines apply for individuals and clubs who don't adhere to the rules of social distancing.
Results for recent events are available by clicking on the Daily Competition Results to the right above this line.
Andrew Bagust, Captain
All golfers must follow the rules set to adhere to Social Distancing.
Temporary local rules Incorporating local distancing
Next Round of the
Kempsey  Haval Island Challenge Series
Friday 9th October
On Friday 9th October we are playing  the next round of the Kempsey Haval "Island Challenge Series". Interest in this event is growing with the number of players in each field increasing every month. The event is a Medley Single Stroke with both a men's and women's winner.
As well as both nett and gross prizes, any player who plays to their handicap wins a sleeve of balls. The ultimate prize for the total of the best 5 individual scores is a trip to the Gold Coast. Progress scores on the race to Royal Pines is on display in the Clubhouse. Entries are available on line or by ringing the pro-shop.
2020 Nambucca Vets Tournament Cancelled
Unfortunately we have to cancel this year's Tournament due to the circumstances and uncertainty surrounding the COVID-19 pandemic. All entrants have been advised by email and we are making arrangements for refunds to everybody – these may take some time to process and your patience will be appreciated. If you have any queries, please direct these by email to the Tournament Committee at nhigcvets@gmail.com – not the golf club.
We look forward to seeing you all in 2021.
Reciprocal Clubs
Members of other golf clubs with which we  have entered into reciprocal agreements are entitled to play at Nambucca Heads for the same costs as Silver Members. To play either in competition or socially costs $20 for 18 holes or $15 for 9 holes for players with reciprocal rights. The list of clubs with exsisting rights is constantly changing and can be viewed via the link below.
Clubs with Reciprocal rights at Nambucca Heads Island Golf Club.