The Nambucca Heads Island Golf Club set on the beautiful Nambucca River
Nambucca Heads Island Golf Club has to be one of the most picturesque public golf courses in Australia. Its unique location on Stuart Island surrounded by the Nambucca River at Nambucca Heads makes it a magnificent setting for a game of golf. Where else can you play golf while watching dolphins swim by in the pristine river while an abundance of birdlife including pelicans, osprey and sea eagles fly overhead.
But this is not just a great location. The par 69, 18 hole layout designed by Ross Watson is both a challenge for the experienced player but enjoyable for an average golfer. It is a flat easy walk on fairways lined with she oak and paper bark trees. Our Bent Grass greens are often described as the best north of Newcastle and are the result of decades of dedicated work.
Located ten minutes off the Pacific Motorway, 30 minutes south of Coffs Harbour may we suggest you call in and take a look. You may enjoy a cold drink or lunch on the deck overlooking the river.
Tuesday Competition
Nambucca Heads Island Golf Club is now conducting a Medley Single Stableford competition every Tuesday when the Mid North Coast Vets are not playing at Nambucca. Members and visitors are invited to enter either by ringing the pro-shop or on line on the Competition Bookings tab above.
This Competition is sponsored by Tooheys and you are invited to enjoy their products either while playing or in the clubhouse after play.
Island Classic 2019
Our Island Classic for this year will be held on Saturday 4th and Sunday 25th August. The main event is a 36 hole Individual Stableford for both Men and Women. Thsre are also seperate 18 hole Stableford events on each day for Men and Women. Our sponsors this year are  Midcoast Trucks who are great supporters of the club for which we are very grateful.
On Tuesday 20th August there is a 4 Person Teams Event which has proved very popular in the past. On Thursday 22nd we are holding Single Stablefords for both Men and Women. Once again we are being supporteded by a great sponsor, Riverside Rest, Nambucca Heads.
Entry forms and information brochures are available using the links below.
2019 Island Classic Entry Form
2019 Island Classic Information Brochure
Reciprocal Clubs
Nambucca Golf Club is currently reviewing its reciprocal arrangements with other golf clubs. Members of other golf clubs with which we  have entered into reciprocal agreements are entitled to play at Nambucca Heads for the same costs as Silver Members. To play either in competition or socially costs $20 for 18 holes or $14 for 9 holes for players with reciprocal rights. The list of clubs with exsisting rights is constantly changing and can be viewed via the link below.
Clubs with Reciprocal rights at Nambucca Heads Island Golf Club.
Easter Bowl 2019
Congratulations to our Easter Bowl winners for 2019. Donna Easey scored 62 points over the two days to win the womens' bowl and the mens' winner was Greg Smith who had 73 points. There were three competitions in all including the Saturday event, the Sunday event and the major prize of a hand carved wooden bowl for the two day event.
Saturday's event was sponsored by the three G's Geoff Harris, Geoff McCann, and Geoff Rees. Sunday's competition was sponsored by Deidre Byrne. Our thanks go to these sponsors and Kurt Taylor for crafting the prizes.
The full list of prize winners is available in the Golf Report for 22nd April in the Golf tab under Results or by clicking on the link below.
GOLF CLUB BRIDGE REPAIRS COMPLETED
Members and visitors to the Nambucca Heads Island Golf Club are ecstatic that their rickety and rattly old wooden access bridge has finally been repaired.
The wooden structure provides the only access to the Golf Club's leased course and Club House  and has been deteriorating rapidly over the years to the point that the Board of Directors were increasingly concerned about the soundness of its construction and public safety.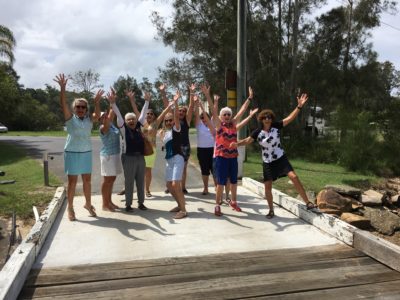 The Golf Club is widely used by the community, not only for Golf with nearly 300 members, but there is an active Squash Club with over 60 very keen players, weekly Bingo, and the Club's range of social activities. The Island Restaurant is one of the most popular dining venues in the Nambucca Valley, well patronised by members and guests.
Following discussions with Council, it was determined that it was the Golf Club's responsibility to effect repairs to the bridge. With concrete construction replacement estimated in the vicinity of $80,000, this option was out of the question. The Club entered into discussions with local bridge builders J & J BILSON, and an affordable repair plan was devised. This entailed replacement of the decking with more substantial timbers  and construction of a concrete retaining wall to rectify erosion and shorten the overall length of the bridge - a total cost of $14,160.
The Golf Club then applied for Grant funding assistance under the NSW Government's Community Building Partnership, and with support from our Local Member for Oxley, Melinda Pavey, was successful in receiving a grant of $13,250.
The refurbished bridge now provides a much safer and smoother access to Stuarts Island, much to the delight of all who cross it and well worth the wait.
The Golf Club wishes to express its thanks to Melinda Pavey, Member for Oxley, for facilitating the Grant Funds  and to J & J BILSON for completion of the project.
Geoff McCann
2019 Golf Calendar
The 2019 Golf Calendar is now available under the Golf tab.
Footgolf
On the Island Golf Course we offer the sport of Footgolf. A cross between golf and soccer it is played over 9 Footgolf holes and is fun for all the family. Contact the Pro Shop for details on 65688172.
In the Clubhouse
HAPPY HOUR - Monday to Friday 4pm to 5pm - $4.50 Schooner, $4.50 Wine
BINGO - Thursday's from 11am - $6.00 lunch deals & promotion.
RAFFLE NIGHTS - Wednesday & Friday nights from 6.30 pm Meat, Seafood and Vouchers -Trivia, Members Lucky Door Prizes
Island Sunday and River Sunday
On the first and third Sundays of each month we conduct mixed events open to members and visitors alike. These are very social events with a shotgun start at 11am so that all players finish at the same time to socialise and enjoyment the clubhouse amenities including free snack food.     The first Sunday is always a mixed 4BBB Stableford while the third Sunday is a mixed 4BBB that is varied each month.
Entries are via the competition booking tab on the home page  or by ringing the proshop on 65688172.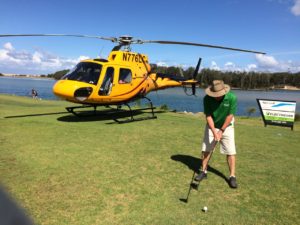 Some Players will go to great  lengths
to play a round on the Island