The Nambucca Heads Island Golf Club set on the beautiful Nambucca River
Nambucca heads Island Golf Club has to be one of the most picturesque public golf courses in Australia. Its unique location on Stuart Island surrounded by the Nambucca River at Nambucca Heads makes it a magnificent setting for a game of golf. Where else can you play golf while watching dolphins swim by in the pristine river while an abundance of birdlife including pelicans, osprey and sea eagles fly overhead.
But this is not just a great location. The par 69, 18 hole layout designed by Ross Watson is both a challenge for the experienced player but enjoyable for an average golfer. It is a flat easy walk on fairways lined with she oak and paper bark trees. Our Bent Grass greens are often described as the best north of Newcastle and are the result of decades of dedicated work.
Located ten minutes off the Pacific Motorway, 30 minutes south of Coffs Harbour may we suggest you call in and take a look. You may enjoy a cold drink or lunch on the deck overlooking the river.
Golf This Week at the Island Golf Club
Thursday    6th December      Medley Single Stableford
Saturday     1st December        Medley Single Stableford
Wednesday 12th December       9 Hole Ladies Single Stableford – Xmas Party
Visitors are welcome in all events. Call the Pro-shop for details on 65688172.                                 Social play available every day
In the Clubhouse
HAPPY HOUR – Monday to Friday 4pm to 5pm – $4.50 Schooner, $4.50 Wine
BINGO – Thursday's from 11am – $6.00 lunch deals & promotion.
RAFFLE NIGHTS – Wednesday & Friday nights from 6.30 pm Meat, Seafood and Vouchers -Trivia, Members Lucky Door Prizes
72 Hour Challenge for Cancer Research
On Monday the 17th of December, Wormo and Duffo, for those of you who don't know them Colin Wormleaton and Neil Duffus, are completing the 72 hole challenge to raise money for cancer research, prevention and support. As some of you know, Wormo is a stage 4 melanoma survivor and is giving back to those who helped through his experience. The link below is where you can donate money to help Wormo and Duffo raise money:
https://longestdaynsw2018.everydayhero.com/au/wormo-and-duff-s-whacking-it-for-a-cure
Every dollar is appreciated.
2019 Nambucca Veterans Tournament
Entries for the Veterans Tournament for 2019 are now open. The 2019 tournament will be played from the 30th June to the 5th July. The links for the entry form and information sheet are below. Traditionally this event is a sold out so be quick to secure you places.
2018 Club
Champions
The 2018 Club Champions for both Men and women have now been decided. The Men's Club Champion is Greg McCoy and the Women's Club Champion is Darcy Habgood. The Men's B Grade Champion is Matthew Leese and The C grade Champion is Joe Street. The Women's B Grade Champion is Tahlia Waaka and the C grade Champion is Gwen Maxwell.
Despite the inclement weather over the 2 weeks the course maintained a very high standard and our thanks must go to the greens staff for their excellent work.
See Golf Reports for the full Men's and Women's results
Island Sunday and River Sunday
On the first and third Sundays of each month we conduct mixed events open to members and visitors alike. These are very social events with a shotgun start at 11am so that all players finish at the same time to socialise and enjoyment the clubhouse amenities including free snack food.     The first Sunday is always a mixed 4BBB Stableford while the third Sunday is a mixed 4BBB that is varied each month.
Entries are via the competition booking tab on the home page  or by ringing the proshop on 65688172.
2018 Annual General Meeting
On Sunday we held our Annual General Meeting at the club with some changes taking place. Geoff Harris becomes the new President after Kerry McCoy stepped down to the Captain's spot. Kel McGoldrick is the Vice President while Andrew Johnston retains the Treasurer's position. Directors are Chris Tinson, Sue Seymour and Gillian Anderson.
At the meeting long time member of the club Ian Vidler was rewarded with life membership in a unanimous vote. Ian has been a great servant to the club having held the position of Captain a number of times as well as being Club Champion several times. He promotes our club wherever he travels as President of the NSW Veteran Golfers Association and as  well runs our veterans tournament every year. A well deserved reward for 51 years of service.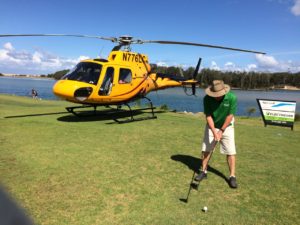 Some Players will go to great  lengths
to play a round on the Island