The Nambucca Heads Island Golf Club set on the beautiful Nambucca River
Nambucca Heads Island Golf Club has to be one of the most picturesque public golf courses in Australia. Its unique location on Stuart Island surrounded by the Nambucca River at Nambucca Heads makes it a magnificent setting for a game of golf. Where else can you play golf while watching dolphins swim by in the pristine river while an abundance of birdlife including pelicans, osprey and sea eagles fly overhead.
But this is not just a great location. The par 69, 18 hole layout designed by Ross Watson is both a challenge for the experienced player but enjoyable for an average golfer. It is a flat easy walk on fairways lined with she oak and paper bark trees. Our Bent Grass greens are often described as the best north of Newcastle and are the result of decades of dedicated work.
Located ten minutes off the Pacific Motorway, 30 minutes south of Coffs Harbour may we suggest you call in and take a look. You may enjoy a cold drink or lunch on the deck overlooking the river.
2019 Annual General Meeting
The 2019 Annual General Meeting will be held at the club on Sunday 3rd of November commencing at 10am.  The 2019 Annual Report can be viewed by clicking on the link below.
The club is currently conducting a raffle for a fully re-furnished  Yamaha Golf Cart.  The cart is in mint condition and comes with a space in the cart shed for one year  if required. Tickets are still available at $10.00 each, 6 for $50.00 or 15 for $100. The raffle will drawn at the 2019 AGM.
2019 Island Classic  Results
Our Week of Golf has been another great success thanks to sponsorship support from Mid Coast Trucks Isuzu over the weekend and Riverside Rest Nambucca for our Thursday competition.
Congratulations go to the women's winner Glenys Thompson and  for the men's  Michael Coutman (Merewether).
Winner of the 36 holes nett score was Rhonda Rowe for the ladies and Leanne Welsh was runner up. For the men Phillip Woodgate took out first prize  and Dave Rosser was runner up.
Over the week we enjoyed the company of 427 players with many players from all points of the state and Queensland. Thanks go out to our sponsors and volunteers without their help we would find it very difficult to host such a competition.
Planning is already under way for next year's event and details will appear on this website when trhey become available.
For full results use the link below.
2019 NSW Veterans Week of Golf Results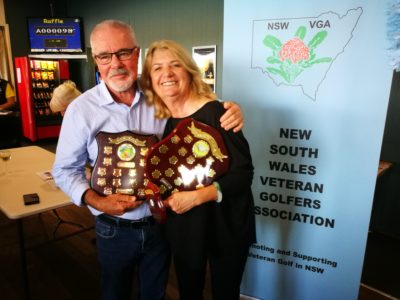 The 2019 Nambucca Heads Veterans Week of Golf saw a capacity field of over 150 golfers compete over four days from Monday 1st July to Friday 5th July. Players came from 55 Golf Clubs from as far away as Bargara, Queensland and Melbourne, Victoria to play the beautiful Nambucca Heads Island Golf Course.This year's New South Wales Veteran Golf Association Shield was a 36 Hole Stableford event played over Tuesday and Thursday and Len Payne, Secretary NSWVGA, presented the trophies to the winners.
The winner of the Men's Shield was Ash Rennie from Beverly Park with 70 points.  The Shield for the Ladies was won by Helen Gauci from Beverly Park with 71 points.
The Tournament Committee would like to acknowledge and thank all our major sponsors:
Chris Watson (Watsons Leisure Centre), Jan Brown (Foreshore Caravan Park), John Partridge (Golden Sands Tavern), Steve Ward (Pizza This, Pizza That), Anne Marriott (Guardian Pharmacy) and Warwick Lean (Nambucca Newsagency).
2019 Veterans Week of Golf Results - full report
Tuesday Competition
Nambucca Heads Island Golf Club is now conducting a Medley Single Stableford competition every Tuesday when the Mid North Coast Vets are not playing at Nambucca. Members and visitors are invited to enter either by ringing the pro-shop or on line on the Competition Bookings tab above.
This Competition is sponsored by Tooheys and you are invited to enjoy their products either while playing or in the clubhouse after play.
Reciprocal Clubs
Nambucca Golf Club is currently reviewing its reciprocal arrangements with other golf clubs. Members of other golf clubs with which we  have entered into reciprocal agreements are entitled to play at Nambucca Heads for the same costs as Silver Members. To play either in competition or socially costs $20 for 18 holes or $14 for 9 holes for players with reciprocal rights. The list of clubs with exsisting rights is constantly changing and can be viewed via the link below.
Clubs with Reciprocal rights at Nambucca Heads Island Golf Club.
Easter Bowl 2019
Congratulations to our Easter Bowl winners for 2019. Donna Easey scored 62 points over the two days to win the womens' bowl and the mens' winner was Greg Smith who had 73 points. There were three competitions in all including the Saturday event, the Sunday event and the major prize of a hand carved wooden bowl for the two day event.
Saturday's event was sponsored by the three G's Geoff Harris, Geoff McCann, and Geoff Rees. Sunday's competition was sponsored by Deidre Byrne.  The major 36 hole event was sponsored by Ronda Rowe. Our thanks go to these sponsors and Kurt Taylor for crafting the prizes.
The full list of prize winners is available in the Golf Report for 22nd April in the Golf tab under Results or by clicking on the link below.
2019 Golf Calendar
The 2019 Golf Calendar is now available under the Golf tab.
Footgolf
On the Island Golf Course we offer the sport of Footgolf. A cross between golf and soccer it is played over 9 Footgolf holes and is fun for all the family. Contact the Pro Shop for details on 65688172.
In the Clubhouse
HAPPY HOUR - Monday to Friday 4pm to 5pm - $4.50 Schooner, $4.50 Wine
BINGO - Thursday's from 11am - $6.00 lunch deals & promotion.
RAFFLE NIGHTS - Wednesday & Friday nights from 6.30 pm Meat, Seafood and Vouchers -Trivia, Members Lucky Door Prizes
Island Sunday and River Sunday
On the first and third Sundays of each month we conduct mixed events open to members and visitors alike. These are very social events with a shotgun start at 11am so that all players finish at the same time to socialise and enjoyment the clubhouse amenities including free snack food.     The first Sunday is always a mixed 4BBB Stableford while the third Sunday is a mixed 4BBB that is varied each month.
Entries are via the competition booking tab on the home page  or by ringing the proshop on 65688172.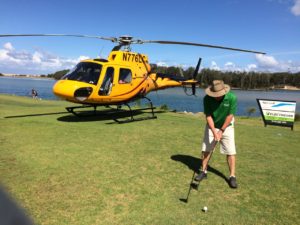 Some Players will go to great  lengths
to play a round on the Island