Club Championships 2020
The 2020 NHIGC Mens' Championships have been finalised and the Club Champion for 2020 is Stephen Carr. Steve had a gross total score of 300 over the four rounds and was followed by Bruce Berry (309) in second. The A Grade Nett was won by Greg Smith with 286 from Colin Wormleaton. The B Grade Champion is Phillip Mander with 344 from Rodney Robertson on 357. The Nett in B Grade was taken out by Joe Street on 281 from Robert Coneybeare with 298. In C Grade Dennis Ashton with a total score of 357 from Andrew Mackinnon on 391. Urpo Ylinen won the C Grade Nett with 289 from Trevor Peck 295. Congratulations to all these players and all players who completed all 4 rounds.
We greatly appreciate the support of our Championship sponsors HLV Partners.
The Women's Championships will be finalised on Monday 3rd August and the results will bre posted shortly afterwards.
Andrew Bagust
Captain  
Women's Championships Round 1     Men's A Grade Progressive Results              Men's B Grade Progressive Results            Men's C Grade Progressive Results
Island Classic 2020
The 2020 Nambucca Heads Island Classic is on Saturday 22nd & Sunday 23rd August. This is a 36 hole two day event with separate 18 hole competitions on each day. The event is played as a single stableford with major prizes going to the nett winners with prizes for the best scratch score and scratch runner up. There are 3 men's divisions and 2 women's divisions. Entry fee is $25 for each day. There is a tournament dinner on Saturday night at a cost of $30. A player may only win one major prize over the week end.
Sponsor of the two day event are Midcoast Trucks while the Saturday sponsor is Deidre Byrne and the Sunday sponsor is BCIB.
Entries can be made by downloading the attached entry form and forwarding it together with payment to the Nambucca Heads Island Golf Club. Players will be notified of their tee times in the week before the tournament.
In the Clubhouse our services and activities are expanding
Clubhouse has now re-opened 

Raffles every Wednesday and Thursday night from 6pm

Happy Hour Monday to Friday 4pm to 5pm

On Course cart servicing players during competition Thursday & Saturday

Restaurant has re-opened for lunches and dinners

Pro Shop open everyday till 4pm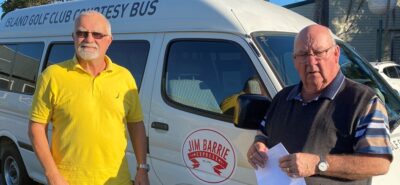 The Jim Barrie Express 
Jim Barrie loved playing golf on our course and was a valued member of the club. Always happy and smiling his absence has been felt by many members who remember him fondly. Jim bequeathed a sum of money to the club which has been used to purchase the new club bus now named the Jim Barrie Express. His generosity will be remembered whenever we see or use his bus.
Jim Barrie's best mate Glen is pictured presenting funds for the "Jim Barrie Express" to President Geoff Harris
Andrew Bagust
 PRESIDENTS UPDATE – JUNE 2020
I am pleased to provide a further update to members regarding operations at our Golf Club.
CLUB HOUSE OPERATIONS
Revenue continues to be maintained at an acceptable level due to the increased playing numbers and the Government assistance packages. Your Board are now confident that the club will not be badly impacted by this interruption to our normal business model.
You would all be aware from Johnathon's updates that we are now able to operate the Club House facilities on a limited basis. I am pleased to report that this has been welcomed by members and the semblance of normal trading is starting to re-appear.
As all members would be aware further easing of Covid-19 restrictions are likely but the lack of new cases during the next couple of weeks will be critical in any such decision. Any further outbreaks would be devastating for all businesses not only ours. Let's all hope that this does not occur and that we are able to resume normal operations in a timely manner.
PLAYING NUMBERS
Your support has been critical and it is very pleasing to note that playing numbers have continued to be strong. We are delighted to see so many members and guests enjoying our great facility. Many visitors are now making Nambucca a golfing destination and we urge all members to make them welcome. We expect these numbers to increase as people resume domestic travel and we are delighted to report that we are getting very strong positive feedback from visitors regarding the quality of our course.
COURSE MAINTENANCE AND UPGRADES
Players would have noticed that a considerable amount of tidy up work has taken place around the course recently. This work has been supervised by Course Superintendent Greg and co-ordinated by Captain Andy and Vice President Kel. We thank all those involved in these working teams and appreciate the improved outcomes achieved. This work is scheduled to continue as there is still much to do.
We also thank Deidre Byrne and Robyn Jones for their excellent maintenance and improvement work on the garden beds around the club most particularly those adjacent to the club house. Members would also note that the compressor behind the loading dock has now been enclosed thanks to some innovative improvements by Director Chris Tinson. Thanks to you all for your efforts as these projects beautify our club.
CAPITAL WORKS PROJECTS
Several projects have been approved by your Board and will commence soon. These include an upgrade to the car park surface and drainage, an upgrade and repair to the outside deck and a complete upgrade and face lift of the Bar.
The car park and deck repairs are safety related and are overdue. The Bar is well and truly outdated and needs to be improved to enhance service standards and improve the club house ambiance. Some funding for these projects has been forthcoming from sponsorship arrangements negotiated by Johnathon. Keep your eye out for these improvements.
KERRY MC COY
It was extremely pleasing to see former Captain and President Kerry back in the club on Tuesday afternoon. He is looking well and is in good spirits and has recovered from surgery. Treatment continues however and whilst positive he agrees that there is some time of uncertainty ahead. It was good to see him at the club again.
SUMMARY
Whilst normal trading has not yet resumed and our business model is not in "full swing" I can report that your club has weathered the storm of Covid-19 restrictions very well. Much work behind the scenes by Johnathon and his team has been instrumental in achieving this result and our gratitude for his dedication to our club is sincerely appreciated.
We need to continue on and get to the end of this disruption but we can now see light at the end of the tunnel. Thank you all for your continuing support as it is appreciated at this critical time.
Good golfing to all.
Geoff Harris,
President.
Captain's Update -

Golf Fixture Changes
Now that we are able to play in groups of 4 and the clubhouse has reopened we are returning to our regular fixtures calendar. The 4BBB Knockout has re-started and the Men's Singles Knockout qualifying has been held.  The Men's Championships begin on Saturday 18th July and the Women's on 22nd July. Other events scheduled include the Foursomes Championships, the Island Classic in late August, the MNCDGA Championships on 27th September and the Nambucca Open Day on 11th October . There is a Major Events calendar on display in the clubhouse and it is available using the link below as is the fixtures calendar for the remainder of the year.
Various events are being played on Tuesday, Thursday and Saturday. A Women's competition is available on Wednesday. Bookings at namgolf.com or by ringing the pro shop on 65688172.  The time sheet will be set up  with a 10 minute  interval between groups. Please don't arrive  earlier than 20 minutes before your tee time and don't linger too long after play is finished. Only 1 person per cart unless family members. Heavy fines apply for individuals and clubs who don't adhere to the rules of social distancing.
Results for recent events are available by clicking on the Daily Competition Results to the right above this line.
Andrew Bagust, Captain
All golfers must follow the rules set to adhere to Social Distancing.
Temporary local rules Incorporating local distancing
Next Round of the
Kempsey  Haval Island Challenge Series
Friday 7th August
On Friday 7th August we are playing  the next round of the Kempsey Haval "Island Challenge Series". Interest in this event is growing with the number of players in each field increasing every month. The event is a Medley Single Stroke with both a men's and women's winner.
As well as both nett and gross prizes, any player who plays to their handicap wins a sleeve of balls. The ultimate prize for the total of the best 5 individual scores is a trip to the Gold Coast. Progress scores on the race to Royal Pines is on display in the Clubhouse. Entries are available on line or by ringing the pro-shop.
2020 Nambucca Vets Tournament Cancelled
Unfortunately we have to cancel this year's Tournament due to the circumstances and uncertainty surrounding the COVID-19 pandemic. All entrants have been advised by email and we are making arrangements for refunds to everybody – these may take some time to process and your patience will be appreciated. If you have any queries, please direct these by email to the Tournament Committee at nhigcvets@gmail.com – not the golf club.
We look forward to seeing you all in 2021.
The Nambucca Heads Island Golf Club set on the beautiful Nambucca River
Nambucca Heads Island Golf Club has to be one of the most picturesque public golf courses in Australia. Its unique location on Stuart Island surrounded by the Nambucca River at Nambucca Heads makes it a magnificent setting for a game of golf. Where else can you play golf while watching dolphins swim by in the pristine river while an abundance of bird life including pelicans, osprey and sea eagles fly overhead.
But this is not just a great location. The par 69, 18 hole layout designed by Ross Watson is both a challenge for the experienced player but enjoyable for an average golfer. It is a flat easy walk on fairways lined with she oak and paper bark trees. Our Bent Grass greens are often described as the best north of Newcastle and are the result of decades of dedicated work.
Located ten minutes off the Pacific Motorway, 30 minutes south of Coffs Harbour may we suggest you call in and take a look. You may enjoy a cold drink or lunch on the deck overlooking the river.
If you are interested in joining our great club click on the links below for more information or check out the membership details under the Golf / Membership tab.
Reciprocal Clubs
Nambucca Golf Club is currently reviewing its reciprocal arrangements with other golf clubs. Members of other golf clubs with which we  have entered into reciprocal agreements are entitled to play at Nambucca Heads for the same costs as Silver Members. To play either in competition or socially costs $20 for 18 holes or $14 for 9 holes for players with reciprocal rights. The list of clubs with exsisting rights is constantly changing and can be viewed via the link below.
Clubs with Reciprocal rights at Nambucca Heads Island Golf Club.